Our company was established in 1993, when we responded to the demand, very high in Poland at the time, for acrylic teeth. We started with a few staff working in four rooms. Today we recall with great sentiment the enthusiasm with which we were building the company and the great joy which filled us when we sold 100,000 teeth in the first year. We also remember our conviction at the time that we would have a very long distance to cover before we reach a total of 1,000,000 teeth. That first million was attained much faster than we believed, and we now hope to reach a threshold of 50 million in the near future. We are now the biggest manufacturer and supplier of acrylic teeth in Poland. Our offer includes three lines of acrylic teeth: the three-layer acrylic variety called WIEDENT ESTETIC, which we have been producing since the creation of the company; the two-layer CLASSIC line produced since 2007, and the three-layer luxury line called ALMAMISS.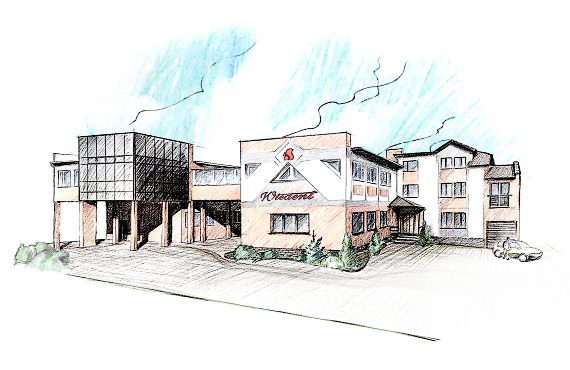 In 2000 we widened our offer for dental technicians to include a variety of products other than acrylic teeth. We have successively introduced into our offer a wide range of acrylic materials, dental waxes, polishing materials, prosthetic tool boxes, and multi-drawer cabinets which help dental technicians to organise their workplace. Our products are used by dental technicians in several dozen countries all over the world. We would like to thank all professionals who have been using our products, and to invite new customers to acquaint themselves with our offer.
In 2003 we implemented and certificated a quality management system embracing "Designing, producing and selling acrylic teeth for dentures and supplementary products" in accordance with norms ISO 9001 and ISO 13485. Our products fulfil the requirements of relevant specifications, norms and safety regulations. Medical products meet the specific requirements of Directive 93/42/EEC (as amended by Directive 2007/47/EC) and of the Polish Medical Products Act of 20 May 2010 (including executive regulations arising from that legislation). All medical products produced by us have a CE mark, and they are listed in the data base guided by the Office for Registration of Medical Products, Medical Devices and Biocidal Products in Warsaw. In addition, a range of our products are also certificated by SGS Belgium NV.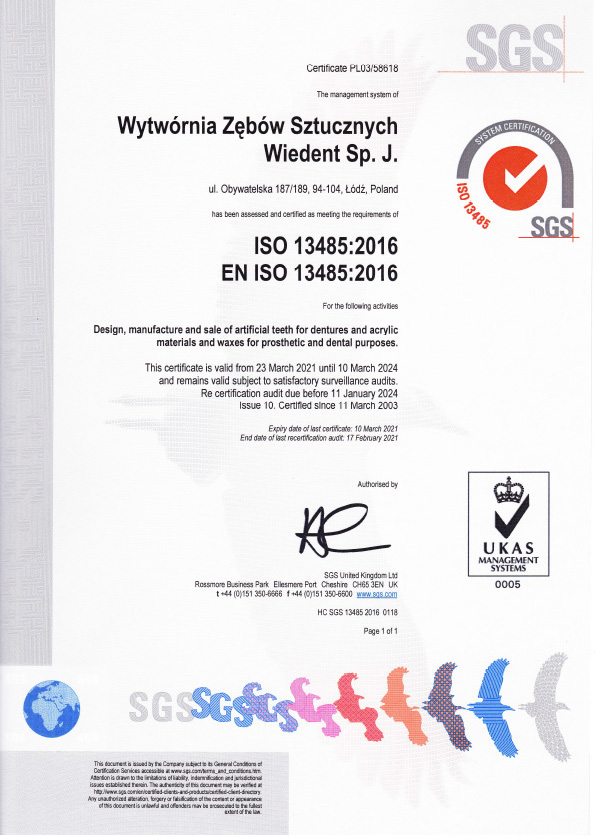 ISO 13485 CERTIFICATE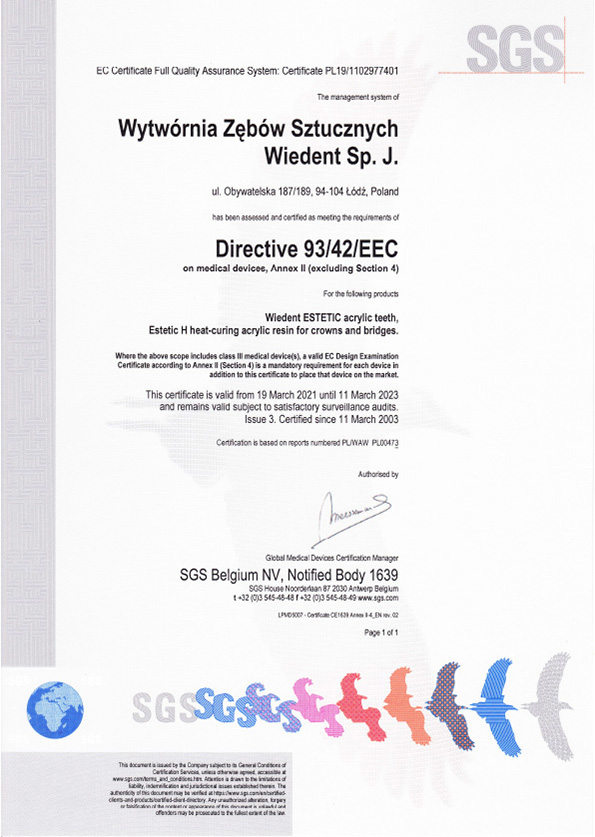 EC CERTIFICATE
PLACING AN ORDER
before placing your first order, please send us your current company details including a valid VAT number (EU customers only),
a telephone number, an e-mail address, and a delivery address (if different from the correspondence address)
we despatch orders within 3 working days,
we send orders by priority post or by courier,
delivery charges are quoted at the time of ordering and covered by a buyer,
orders are despatched immediately after the payment is credited to our bank account,
deliveries are normally made within 3-5 working days, depending on the destination,
please use our dedicated order forms to facilitate speedy and accurate processing of your orders.
CONTACT DETAILS
Please place your orders:
Information concerning current orders can be obtained: